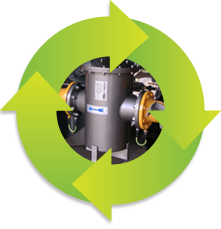 LIFE CYCLE
A network planned with respect for natural resources
A product's lifecycle takes into account all the activities which come into play in its manufacture, use, transport and disposal. Careful to respect its commitment to conserve resources and the environment, ARIONIC has put in place the best standards of the eco concept at all stages of the lifecycle of NEW IONIC equipment:


USE OF NOBLE MATERIALS
NO CONSUMABLES USED
TRACEABILITY OF EQUIPMENT
END-OF-LIFE RECYCLING
The use of stainless steel and lanthanides allow the construction of products with a long lifespan: built-in obsolescence is not part of our philosophy. With a ten-year guarantee based on a life of over 20 years, NEW IONIC equipment goes on to be recycled at the end of that time.

Our system uses no consumables, no electricity, no disposable filters. The packaging is mainly made of wood.

The traceability of our products is guaranteed from the start: each piece of equipment carries a serial number and an installation address. At the end of its life, the stainless steel and lanthanides are re-used for the manufacture of new equipment.