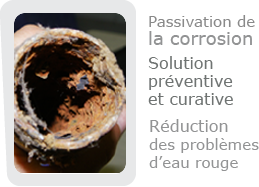 PROBLEMS OF RUSTY WATER
A simple treatment for red water problems
Certain combinations of parameters (too-soft water, pH, type of materials) may sometimes accelerate the phenomenon of corrosion in pipes. The iron oxide present in large quantities in the water can therefore turn the water reddish, with complaints from residents about the quality of the water into the bargain. The installation of a NEW IONIC treatment first stabilises then passivates the corrosion, and so considerably reduces the iron oxide in suspension.


ELIMINATION OF IRON OXIDES MIXED WITH LIMESCALE
STABILISATION THEN PASSIVATION OF CORROSION
DOES NOT MAKE THE WATER CORROSIVE

(unlike chemical softeners)

RESOLVES RED WATER PROBLEMS
If iron oxide is associated with carbonate incrustations, it is progressively eliminated. If the rust is in the form of pustules, NEW IONIC treatment will modify the surface state by making it blacker, rather like using commercial anti-rust products.

Watch out! It is important not to confuse the presence of rust with iron content, an intrinsic element of water which, in excess, gives water a colour between pink and dark brown (a problem arising from water purification systems, and not from the internal network itself). In addition, our treatment cannot correct problems of incompatibility between the materials making up the networks, which may cause electrolysis phenomena.

With regard to conventional softeners which lower the hardness of the water and make it more corrosive, our treatment is doubly beneficial because it does not modify the physico-chemical properties of the water, but also passivates any existing corrosion.