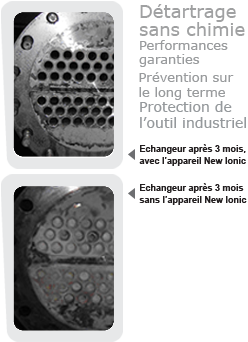 PREVENTION OF LIMESCALE
IN HEAT EXCHANGERS
A real industrial challenge
In industrial contexts, especially in the realm of transporting heat by water, the prevention of limescale allows for improved and longer-lasting functioning of the systems and materials involved. Considerable financial economies may be made.


MAINTAINS EXCHANGER PERFORMANCE
NO NEED FOR WATER SOFTENERS
PREVENTIVE AND CURATIVE ACTION
PREVENTS RISK OF INSTALLATION STOPPING
REDUCED MAINTENANCE COSTS
In certain sensitive installations, a slight build-up of limescale can quickly reduce the installation's yield and its function, sometimes directly affecting the safety of the installation. The fitting of a NEW IONIC water treatment system allows heat exchangers and networks to be protected from limescale deposits by the neutralization of the form of crystallisation of calcium carbonate (aragonite).

It is also possible to carry out operations of curative de-scaling on certain types of exchanger (with tubes, tube bundles,…) and de-structuring the limescale so as to trap it gradually in filters on the loops. In this way, it is possible to maintain and operate thermal water exchange networks without softening or chemical use, often the cause of oxidisation. Maintenance costs are reduced in a significant way, and we participate in maintaining your production tools at peak efficiency over the long term.