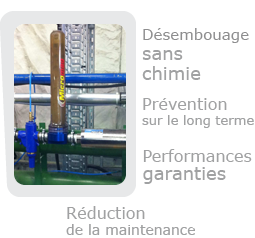 DE-SLUDGING OF
HEATING / ICED WATER NETWORKS
Maintaining the yield of hot and cold networks over the long term
Because of limescale and sludge, the yield from networks of heating water often decreases over time, which can lead to around 10% excess energy use. Later, installations may be at risk of malfunction (uneven calorie distribution), or even breakdown in extreme cases. ARIONIC offers the NEW IONIC solution to treat your networks in a preventive as well as curative way, without the use of chemicals. By re-establishing an optimal hydraulicity, and by protecting the pipes from corrosion, we guarantee you an optimised long-term efficiency.


PERFORMANCE MAINTAINED IN HOT/COLD NETWORKS
SAVINGS IN THE ORDER OF 10%
PREVENTIVE AND CURATIVE ACTION
EASY FITTING ON BY-PASS
To protect against the risks of sludge and corrosion, the use of a corrosion inhibitor becomes necessary, even essential, within the framework of the contractual guarantee of boiler manufacturers; it often also includes a magnetic retention de-sludger. But the use of chemical products does not guarantee that the efficiency of the network's current operation will be maintained. ARIONIC proposes the use of a water treatment by magnetic polarisation, so as to protect networks against limescale, corrosion, sludge and bacterial growth. The use of chemicals is therefore not necessary.

For new networks, the treatment proposed by ARIONIC maintains a lasting, optimal efficiency of heat exchanges, and protects the entire installation over the long term. For older networks, optimal functioning is achieved by curative de-scaling and by stopping the build-up of sludge, then finally by protecting against corrosion.