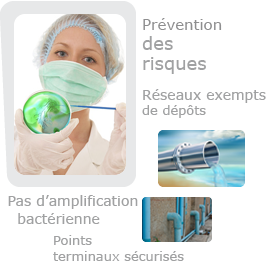 REDUCTION OF BACTERIAL FLORA
IN WATER NETWORKS
Noticeable improvement in sanitary safety on your industrial sites
In agro-food factories, water is used for a great number of terminal points, often relating to cleaning and disinfecting operations. Too great a presence of bacterial flora in the networks could therefore bring about product contamination, with considerable human and industrial risks into the bargain. In this case, ARIONIC proposes a preventive treatment for the water at its prime entry point, against limescale, corrosion and biofilm, with an optimal quality of water in distribution.


TREATMENT OF THE ENTIRE FACTORY WATER NETWORK
NO NEED FOR WATER SOFTENERS
PREVENTIVE AND CURATIVE ACTION
REDUCTION IN QUANTITIES OF BACTERIA
REACH A BACTERIOLOGICALLY CONTROLLED QUALITY OF WATER
The basis is, of course, a good hydraulic in the network, combined with the use of suitable materials. In spite of everything, the statutory impossibility of treating the cold water chemically at its prime entry point leads to limescale deposits, the presence of biofilm and then the colonisation of these areas by bacteria.

The NEW IONIC treatment solves these problems by neutralising the calcium carbonate, cutting down the bacteria right from the start of the network, and also by de-stabilising the biofilm. With neither support nor nutrients, the bacteria cannot develop, and the levels of bacterial flora examined at our clients' premises confirm the non-expansion of the bacteria between the entry and terminal points.