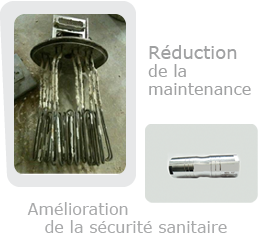 MAINTENANCE OF HUMIDIFIERS
Reducing maintenance and sanitary risks
ARIONIC offers a special humidifying model, easy to operate and allowing for an appreciable reduction in maintenance operations as well as cleaning.


PROTECTION FOR HUMIDIFIERS / ATOMISERS
REDUCED CLEANING PHASES
EXTENDED LIFESPAN
ANTIBACTERIAL PREVENTION
Without treatment, limescale forms quickly in humidifers, leading to frequent and arduous cleaning operations. The ARIONIC system prevents the formation of hard limescale, which will be transformed into the easy-to-clean talc-type deposit. As an example, on a system with the same type of functioning and with water at 45o TH, the system allows the lifespan of the bowls before clogging up to be improved from three weeks to about one year.

For atomisers, the anti-limescale action keeps the nozzles from blocking, and the reduction of flora passing through the equipment and the biomass in the network downstream of the system, allows a healthy and sure water to be diffused into the air.

There are no corrosive effects, and no added chemical products.