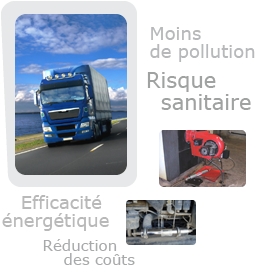 ■

LOGISTICS ET TRANSPORTATION
Reduce costs and environmental impact
As well on logistical bases as on fleets of lorries or boats, ARIONIC contributes to a reduction in fuel consumption, as well as the costs of operating cooling circuits.

Your cold chain often requires the use of cooling towers, for which ARIONIC proposes turnkey solutions for water treatment, without chemical consumables.

Concerning energy, our optimisation combustion systems allow you to reduce your HGV fuel consumption by around 7%, while still retaining the motors' optimal yield. Long-term trials over a year and 200,000 kms (125,000 miles) have allowed us to measure the fuel gains and the reduction of polluting emissions, particularly the fine particles.