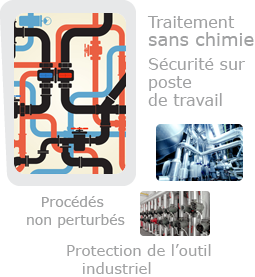 TECHNICAL MAINTENANCE
An alternative to chemical solutions
Technical water circuits (cutting liquids, treatment baths,…) are often places where bacteria proliferate, with temperatures approaching 30oC. The addition of chemical products is not always possible, because of health and safety problems in the workplace or again because of incompatibility with the initial treatments. ARIONIC brings you a chemical-free anti-bacterial solution, compatible with the requirements of industrial maintenance.


ANTI-BACTERIAL SOLUTION WITHOUT CHEMICALS
CONTINUOUS TREATMENT IN LOOP
POSSIBILITY OF TREATING OPAQUE WATER
In the style of a cooling tower, ARIONIC lays out, in this case, equipment for make-up water, as well as a continuous treatment in the loop. With the help of new versions of type T equipment, the permanent anti-bacterial reduction allows levels of bacterial flora to remain low. In cases where iron is present, a powerful magnetic pre-filtration is required.

As well as the anti-bacterial treatment, the neutralisation of the calcium carbonate allows the de-scaling operations to be extended to the tanks and distribution nozzles.