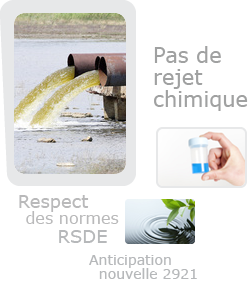 REACH / RSDE / ICPE *
Concrete solutions for reducing discharge and responding to the expectations of European regulations.
The European Union is spearheading long-term action with the aim of reducing the presence of chemical products in the water, especially through the Framework Directive on Water (Directive 2000/60/CE of 23 October, 2000). Moreover, the treatment products themselves must now be registered according to the REACH procedures after having proved their harmlessness. ARIONIC fully subscribes to this approach in proposing solutions for water treatment without chemical products.



SOLUTIONS WITHOUT CHEMICAL PRODUCTS
REDUCED DISCHARGE
REDUCTION IN DANGEROUS SUBSTANCES
ANTICIPATION OF INCOMING ENVIRONMENTAL REGULATIONS
For classified installations, the circular of January 5, 2009, relating to the research into and reduction of dangerous substances in water-based discharge (RSDE) created a list of products which, identified in the analyses, require industry to take suitable steps. The family of alkyl phenols, chloroform and chloro-acetic acid, linked to cleaning activities, form a part of this.

Chloroform can be synthesised in the presence of bleach and organic matter. Chloro-acetic acid can be synthesised during chlorination or ozonisation treatment. These substances therefore must be looked for in water-based discharges from the moment that they appear following practices and products used on the industrial site, particularly circuit-cleaning operations or the treatment of auto-refrigerant tower type cooling installations, as they could lead to the appearance of these substances. These products appear on the lists entitled "To be watched".

Over the next few months, new ICPE regulations will require exemption for the use of certain chemical biocides, making the operation of cooling networks even more closely supervised.

ARIONIC proposes treatments without the use of chemicals, which conform to present and future regulations.