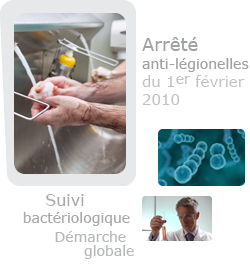 CONTROL OF BACTERIAL RISK
IN SANITARY WATER NETWORKS
At last, the power to control the entire Cold Water + Sanitary Hot Water network
The bacteria problem is often summarised by the risk of Legionella in sanitary hot water networks (HWN). However, it is well known that most bacteria are brought in by the cold water in the network.

A simple solution consists of positioning a NEW IONIC device right at the main water entrance to the building. Its anti-limescale effect protects the entire General Cold Water and Sanitary Hot Water network against limescale deposits. What is more, its 'de-biofilm' action allows it to dislodge existing organic deposits, then to control them. So, without a place to lodge, the bacteria cannot proliferate and so the bacterial risk is dramatically reduced throughout the entire network.


AUTHORISATION TO TREAT COLD WATER AND SANITARY HOT WATER
DECREASE IN NUTRIMENTS IN THE NETWORK
DESTABILISATION OF BIOFILM
DECREASE IN BACTERIAL FLORA IN CIRCUITS
CONFORMS TO 2010 LEGIONELLA DECREE
The action of NEW IONIC's treatment against biofilm allows it to undertake a long-term action, so as to result in very good-quality water. Its antibacterial reduction, right from the supply arrival point, allows it to limit the contribution of micro-organisms to the cold water. So far as the risk of Legionella in the HWN loops, a second NEW IONIC unit can be added on the return of the loop so as to avoid the redistribution of bacteria, which may be released from dead-legs, or following a re-contamination.

Zero risk does not exist, but the use of our solutions allows for the reduction of the biomass by a factor often greater than 100. Once the bases of a good hydraulic have been checked, the success then comes from an effective preventive treatment combined with a careful follow-up, using techniques such as ATP. ARIONIC offers you a global approach with the aim of following the Legionella regulations of February 1st, 2010 as closely as possible.