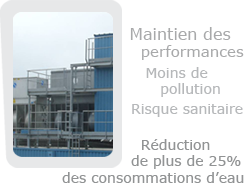 CONTROL OF BACTERIAL RISK
IN COOLING TOWERS
Combining sanitary safety with cost reductions
Air-cooling towers are a source of major costs and insecurity for industrial or commercial users. A good operational strategy should be to protect the tool and reduce the costs, while still ensuring its safe working. Treating water with NEW IONIC responds to these aims. NEW IONIC controls bacteria and biofilm, prevents limescale and completely replaces chemical products.


NO NEED FOR WATER SOFTENERS
NO NEED FOR CHEMICAL BIOCIDES
PERFORMANCE MAINTAINED
DECREASE IN BACTERIAL FLORA IN CIRCUITS
DECREASED OPERATING COSTS
REDUCED WATER CONSUMPTION
POSSIBLE DISCHARGE INTO RAINWATER
Our treatment strategy combines a preventive treatment with the aim of eliminating the bacterial support, and a permanent biocide treatment in the loop. The result is beyond question: circuits working with the NEW IONIC physical treatment contain fewer bacteria than those treated with chemical products.
The reduced water consumption is in the order of 25%. When leased, in general terms the equipment cost is less than that of conventional operation. What's more, without using oxidising products, the lifespan of the equipment is significantly prolonged.