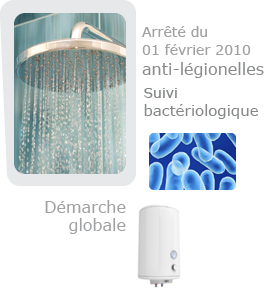 CONTROL THE RISK OF LEGIONELLA
A practical response to the new regulatory obligations
Establishments Receiving the Public (ERP), especially hotels, must put controls in place – analysis of Legionella and measuring temperatures – in the conditions laid down by the Decree of February 1, 2010. Among other things, they are advised to ensure regular maintenance of their networks, and to fight against limescale and corrosion.

ARIONIC proposes water treatment solutions which answer these requirements. The limescale preventive function protects installations from scale deposits and corrosion. The curative de-scaling function, sometimes combined with a balancing of the network, re-establishes an optimal water circulation. Finally, the reduction of bacteria passing through the equipment is an extra guarantee against bacterial development.


PRACTICAL SOLUTION TO REGULATORY DEMANDS
FIGHT AGAINST LIMESCALE AND CORROSION
PROMOTES GOOD WATER CIRCULATION
COMPLEMENTARY BACTERIOLOGICAL MONITORING POSSIBLE
ARIONIC has shown for a number of years that the bacterial flora in networks treated by NEW IONIC is generally inferior to those in networks treated by classic solutions, of the 'softener + filmogen + chlorination' type. These last often form homes or supports for bacteria, and the supposedly curative treatments are used in a repeated way, damaging the lifespan of the installations.

Now with the added services of bacteriological monitoring by ATP, the ARIONIC service allows those in charge of water networks within ERPs to take advantage of a solution which is both economical and ecological.