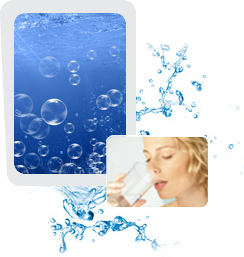 HEALTH
Access to healthy, natural water without added chlorine
Our bodies are made up of 65% water. We are constantly using water to cleanse and regenerate our vital systems. Mineral salts, including calcium and magnesium, are indispensable to our health. It is therefore essential not to touch the physico-chemical properties of natural water for its consumption.


NATURAL TREATMENT, WITHOUT CHEMICALS
MAINTAINS THE WATER'S PHYSICO-CHEMICAL PROPERTIES
REDUCED BACTERIAL FLORA
CONSERVES THE WATER'S MINERALS
REDUCES WATER POLLUTION
With NEW IONIC, the water remains mineralised, and it is easier for the body to assimilate it. Minerals are important elements of drinking water and have an effect on health which is both direct and indirect. A sufficient number of facts is now available to confirm that a minimum quantity of minerals in the water is desirable, since their deficiency has many negative effects on the health: illness, and possible attacks from toxic elements and bacteria.

What's more, the bacteriological quality is improved, reducing the risks of Legionella, Pseudomonas, E. Coli … In addition, the taste of chlorine is diminished.

Water treated with NEW IONIC is not destabilised, and so does not become aggressive. No more filmogens or biocides in domestic hot water! So there are no further discharges of chlorides, which concentrate in waste water.

With NEW IONIC, the health of the individual is protected, today and in the future.