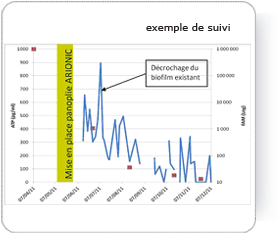 Water treatment
MONITORING
Performances monitored over time
Effectiveness is judged by results rather than by capital costs. This is why ARIONIC wishes to direct its services towards the careful monitoring of its installations, contrary to the usual practice of using products in the pipe networks.


ANNUAL MONITORING OF LIMESCALE (CONNECTORS, EXCHANGERS,…)
REGULAR MONITORING OF BACTERIOLOGY BY METERING ATP
Limescale monitoring is done in conformity with DTU (French Building Code) Plumbing guidelines, by annual checking of the inspection joints which are placed at the entry and exit points of ECS production. The analysis of exchangers also allows the lack of limescale on the equipment to be noted. At the same time, bacteriological monitoring of the water quality can be carried out by the technique of ATP (adenosine triphosphate) metering, allowing the person in charge of the installations to verify the low levels of biomass in the water.