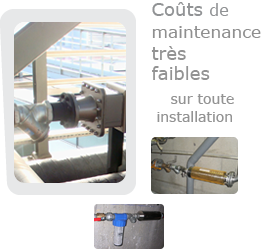 Water treatment
MAINTENANCE
Maintenance reduced to an absolute minimum
NEW IONIC equipment needs no maintenance, properly speaking, as only its peripheral accessories require maintenance at regular intervals.


BI-ANNUAL MAINTENANCE IN NORMAL USE
REGULAR MAINTENANCE WHEN USED FOR DE-SCALING
ANNUAL VISUAL INSPECTION
Around twice per year, all you need to do is clean the pre-filters, to ensure that they are in good working order, and to avoid the build-up of any bottlenecks in the long term. Watch out, as in the case of curative treatment, during the network de-scaling period, you should clean the pre-filters regularly.

NEW IONIC equipment does not need any particular process, apart from an annual visual inspection to check that there is no exceptional build-up of iron filings on the upstream pipework (water supply).