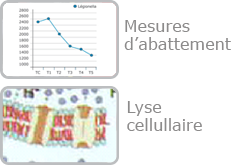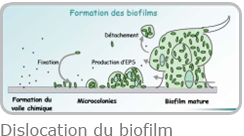 Water treatment
RESULTS        

Anti-bacterial effect
Added to the effects on limescale, the reduction of bacteria passing through the equipment is due to the power of the field of polarisation.
REDUCTION OF BACTERIA PASSING THROUGH EQUIPMENT
NON-SELECTIVE TREATMENT WORKS ON DIFFERENT STRAINS (Legionella, Pseudomonas, E Coli …)
LOCALISED, CONTAINED TREATMENT : NO HARMFUL EFFECTS ON NEARBY EQUIPMENT
NO CHEMICAL BIOCIDES
Numerous studies have been undertaken over the past few years to establish the effect of electro-magnetic waves on living cells, with the aim of determining acceptable levels for sanitary health. With the opposite aim, that of destroying cells, our treatment is used in very intense (but strictly contained) fields: its anti-bacterial effect was recently measured by the recording laboratory COFRAC (the national accreditation body). Encouraged by this feedback, ARIONIC now distributes a new device with a strengthened field, the main use of which is the treatment of water in cooling circuits.
De-biofilm effect
It is now known that most bacteria live in biofilm. The action of New Ionic treatment on biofilm allows long-term action to be taken so as to result in very good-quality water.
PROGRESSIVE DISLODGING OF BIOFILM
DRASTIC REDUCTION OF PLACES FOR BACTERIA TO LODGE
POSSIBILITY OF TREATING ENTIRE NETWORK (HOT AND COLD WATER)
In fact, micro-organisms which arrive in cold water naturally attach to surfaces, group together and thus form a biofilm, which the flow of water alone will not dislodge. Anti-bacterial action from the moment of their arrival allows the micro-organisms to be limited by cold water. As well as being impoverished, the biofilm is stressed by the modification of the water's surface tension, and is dislodged after a few weeks.