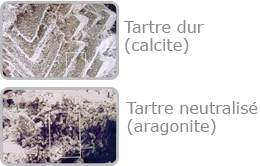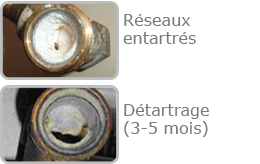 Water treatment
RESULTS        

Anti-limescale treatment – prevention
The traditional response to limescale problems is to soften the water; that is to say, to substitute calcium ions for sodium ions. However, it is possible to neutralise calcium carbonate (CaCO3), alias limescale, by irreversibly changing its crystalline structure


PREVENTION OF DEPOSITS AND LIMESCALE BUILD-UP
RETAINING THE PHYSICO-CHEMICAL PROPERTIES OF WATER
RETAINING THE DRINKABILITY OF WATER
NO SALT, NO DISCHARGE
Instead of hard calcite deposits, our treatment causes the formation of aragonite, which is 30-40 times smaller, similar to talc. The calcium carbonate loses its accumulating properties and is washed away with the flow.
Anti-limescale treatment – removal
It is difficult to restore limescale-encrusted installations. Our solutions are carried out progressively, by weakening the way in which the hard calcite holds together, so as to capture it in the Sanitary Hot Water system. Within a few months, hydraulicity is re-established.


NON-AGRESSIVE LIMESCALE REMOVAL FROM NETWORKS
DRASTIC REDUCTION OF PLACES FOR BACTERIA TO LODGE
RESTORATION OF HYDRAULICITY AND DISTRIBUTION TEMPERATURES
ABILITY TO TREAT ALL TYPES OF MATERIAL
NATURAL PASSIVATION OF CORROSION AFTER DE-SCALING
EXTENDS EQUIPMENT LIFE EXPECTATION
On the other hand, chemical cleaning operations, even if they produce short-term results, put pipes at risk by the aggressive action of acids. In this way, our solutions offer undeniable advantages in the long-term maintenance of installations.