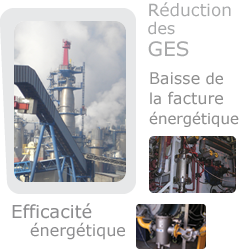 Oil and gas treatments
PRINCIPLES
Improving the operating efficiency of heat-producing equipment
The physical NEW IONIC treatment consists of improving the combustion process of hydro-carbons to give additional energy production (heat content), and consequently reducing fuel requirements. Easy to install, as compared to other systems of energy economy, and needing no maintenance, our systems produce an improvement in consumption from between 6 to 12%.


REDUCTION OF CONSUMPTION FROM 6 – 12% regarding equipment
REDUCTION OF GREENHOUSE GAS EMISSIONS AND POLLUTANTS
EASY TO INSTALL
MAINTENANCE-FREE
Each installation is verified on site, with a commitment to produce results into the bargain. The main applications are hot water or overheating boilers, steam boilers and ovens.
Our solutions fit perfectly into a programme of reducing energy consumption (monitoring by audit on the basis of improvements, …) and will pay for themselves on average within a year or two.