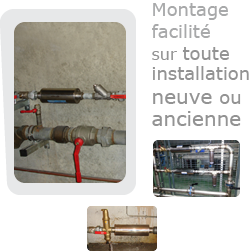 Water treatment
INSTALLATION

Easy and quick to fit
ARIONIC equipment is installed on the spot and placed into a section of the pipework, no matter the direction or the length of pipe.
EASY TO INSTALL
POSSIBILITY OF AUTOMATISED PRE-FILTRATION
A pre-filtration kit is recommended so as to avoid any deposits of suspended materials or iron particles in the systems, as those could cause long-term damage to their working. Installing those in a by-pass is not essential, except when filters are being maintained: the water should always pass through the complete system for guaranteed results.